Musical theatre boyband Collabro are releasing a charity single in aid of Save The Children's Emergency Fund after one of their members was caught up in Hurricane Irma.
The group have vowed to give all the proceeds from sales of their single to help victims of the disaster.
Singer Michael Auger witnessed the destruction first hand when he was caught up in the storm when it hit the Caribbean Island of Saint Martin.
Now he and bandmates Jamie Lambert, Matt Pagan and Thomas Redgrave will release their single Lighthouse on Friday to raise money for Save The Children's Emergency Fund, which helps those suffering in disasterzones worldwide.
Michael, who is now back in the UK, said: "The devastation left in the wake of Hurricane Irma is truly heart-breaking for the people of the Caribbean and Florida.
"I know I was very lucky to escape unharmed but there are many thousands of people who have lost everything and will feel the effects of this disaster for years to come."
With his bandmates adding: "After what Michael went through, and the terrible pictures we've all seen on TV of the devastation wrought by Irma, we wanted to do something to help those affected by natural disasters like this, around the world.
"The message of the song, being a beacon of hope wherever you are, we felt was very fitting as natural disasters like this affect people both directly and indirectly.
"Save The Children does amazing work around the world and are a beacon of hope for young people and families caught up in war and natural disasters."
Claire Rowney, Save The Children's executive director of fundraising, said: "We are so grateful to Collabro and their fans as they will be raising vital money for emergencies around the world.
"Every download of 'Lighthouse' means that we can continue to mobilise teams and reach the most vulnerable families at times of crisis."
Every time Lighthouse – which was co-written by the band and Ben Adams of boyband A1 – is downloaded, 99p will go to the fund which mobilises emergency teams in times of crisis, allowing them to assess situations and get life-saving food, shelter and medicines straight to where they are most urgently needed.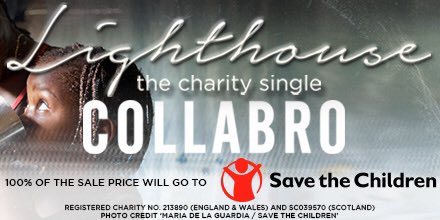 PS, Click here to follow me on twitter for more celebrity gossip!